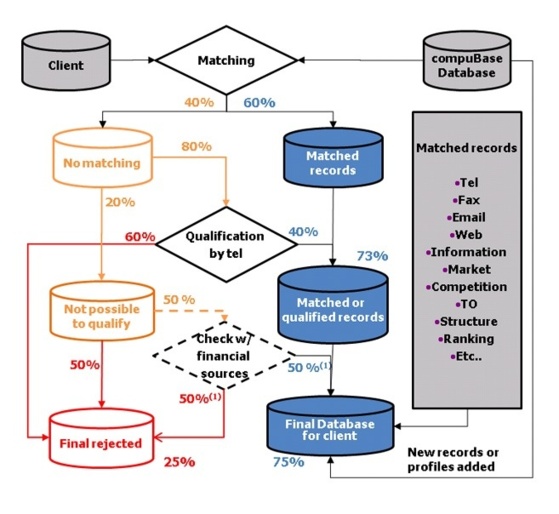 compuBase database cleaning and enrichment process
Your data are essential

Sales and marketing architecture can only work effectively with a quality database.
Whether you are formulating your channel marketing strategy or analysing your marketing results, you need to rely on the quality of the information in your database.
Statistically, our studies show that 30% of the content of our clients' "partners" files, before processing, is quite simply worthless. Investing in improving the quality of your databases will bring guaranteed ROI: less time wasted by your sales and marketing teams, fewer unsuccessful mail shots, and better rates of return on all your marketing campaigns.

Below is a description of the process applied by compuBase for data cleansing
(The percentages shown are indicative of the average results observed.)
Channel Profiling
compuBase could also qualify companies that are not present into our database in order to supply a consistent database. For this operation we will search for companies that have disappeared, and qualified those still in business check if they are IT companies and qualify them according your need.

Usually list provides comes from Sales out report compilation, this are the ratio we have from various experience
- For a 100% file
- A the end a maximum of 75% are still in business, with no duplicate and in the IT industry.
The Gartner Group says
"Data quality issues have to be seen as a strategic problem and not as a technical problem. As such, the processes of managing data and software must be designed according to the needs of the users and analysts and not according to those of technical managers."
OTHER LINKS