Segment defintion
We considered a partner in the health care sector a partner who is
- an ISV with a solution dedicated to the health sector
- any IT company that claims to specifically address the health industry.
Partners may be Vars, integrators, manufacturers or software publishers.
How many partners and what is their activity?
ICT partners for the health market from compuBase database
Where to find partners addressing the market of Health / Care compared to the ICT universe?
In addition to IT providers (manufacturers and software publishers), the other categories that can help you promote or resell your healthcare solutions are.
Software solutions or services integrator (developed by third parties)
Consulting
Reselling to enterprises (hardware, software & services & assemblers)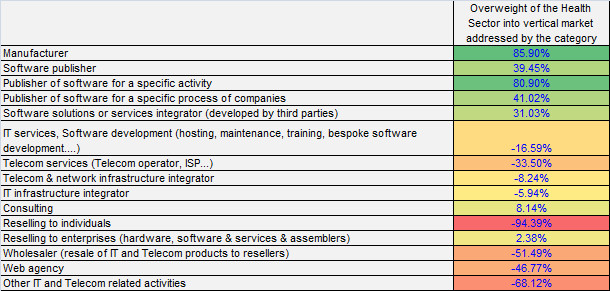 What are the top skills by affinity to health industry
If we study the skills of the partners, we discover that some skills are more present into the dataset of IT partners addressing the health sector that IT partners adressing other verticals.
This skills are
RPA - Robotic Process Automation
Governance, risk management, and compliance (GRC) - GDPR - Data Privacy
Smart City - Smart Home
AI - Artificial Intelligence, Neuronal Syst., Deep Learning
Blockchain
BPM - Business Process Management - EPM
RFID - AIDC
IAM - Identity and Access Management
SOA - Service Oriented Architecture
IoT - Internet of things - M2M
Asset Management - LCAM
Social Network Services / Collaboration
Big Data - BAO - Datawarehouse
Business Intelligence
It means that if you address partners having these skills you are more likely to find IT partners addressing the health sector than those having different skills.
What are the brands with whom to partnership to enter the Health Sector
As before, we looked for brands for which their partners are more likely to address to the health / Care market than the average.
Gigamon
Zix Corp
AppSense
Box
Commvault
Creston
Ergotron
Lifesize
Riverbed
RSA
Connectwise
QLogic
Forcepoint - Websense
Akamai
Bosch telecoms
Shoretel
Nimble
Palo Alto Networks
Aruba
Netapp
Now, if you want to know the 10 brands with the largest number of partners in the health care sector, the results are different but quite expected, as most of them are the main players in the ICT market..
Microsoft
HP
Cisco
IBM
Dell
Polaroid
VMware
Oracle
SAP
Symantec
Studies on other markets