What are the topics covered by this market?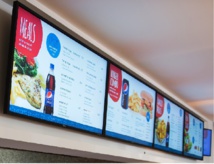 This market covers both BtoB players and resale to individuals. Among the BtoB players we find service companies of manufacturers and of course distribution companies.
In terms of products, we include all screen-type products on the market, be they simple monitors, large screens, virtual reality headsets, video projectors, interactive screens or digital signage solutions.
In the case of service companies, we only consider companies that have declared to be skilled in digital signage or virtual reality.
How many players on this market?
Channel (Resale) for the Digital Signage and display peripherals?
IT partners skilled for Display - Digital Signage - VR
​
What are the top market addressd by those companies?
compuBase references more than thirty vertical markets addressed by partners. When we compare the list of these markets between digital signage players and our entire base, we find that some vertical markets are outperforming for this product catgory.



All partners but addressing the key market for this product category. They might nor yet resale the product category studied.
The 10 following markets are: Electronics, Transport, Logistics, Military – Defence, Tourism, Banking – Finance, Press- TV – Cinema, Leisure Industry.