The 2008 compuBase study on the virtualization software resellers contains a detailed analysis of this market to help you improve your knowledge of the EMEA channel of virtualization software resellers.

With almost 20,000 potential partners, the virtualization software sector in Europe is constantly growing.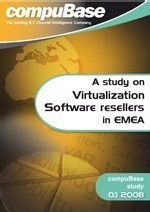 Content :

- What is virtualization?
- Why use virtualization?
- The Players
- Skills and sales figures
- Market trends
- How to access the virtualization partners?


OTHER LINKS