Major Business Flows towards Africa from EMEA

While the weak infrastructure of many African countries is a major handicap to development, it is also the reason why certain generations of technology have been entirely passed over, to the benefit of mobility products and e-banking. The first bank account in Africa is often via telephone and e-banks are standard for many countries.

A whole world of IT is being created around this telecom development. The IT industry in Africa is growing thanks to a network of very high speed underwater cables. Telecommunications and information technologies are both the vector and the backbone of African development. Free of the constraints of a wired infrastructure, telecommunications and particularly mobility have brought the internet to even the most remote areas.

Many other, semi-private initiatives are also being developed to accelerate access to technologies for a young population, which is hungry for knowledge and eager to join the global game. Such efforts generally have the support of the principal web operators, who can see and understand the commercial potential of this continent.

In many countries, incubators supported by local and international initiatives are creating an eco-system whose main challenge is to find and preserve local skills. All of this in an environment which, compared to classical western standards, is often disruptive.


The path to Africa is not an easy journey, which is the reason for this study.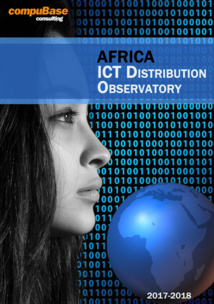 With the African focus of this Distribution Observatory compuBase takes stock of the challenges, opportunities and key countries for developing an activity with ICT partners, estimating there to be nearly 20 000 significant players, though this figure is in constant progression.

The complete Distribution Observatory for Africa is over 120 pages (in English).

Organised by 6 key regions, the study describes the eco-systems and possible entry points for each country, providing an estimation of the number of local market players for each.

To complement the study, compuBase also provides access to its information base of 6 000 IT partners in Africa : MSPs, VARs, SI, ISVs, resellers, distributors…

A shorter, 30 page version of the study is available on free download.

This is probably the most complete study of the eco-system of IT and telecom distribution in Africa to date.

ICT partners in Africa by main business model
| | | | |
| --- | --- | --- | --- |
| | Create your own company selections in Africa >>Here | | For a specific target of ICT players for Africa >>Contact us here |
OTHER ARTICLES THAT MAY INTEREST YOU