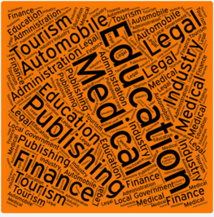 When making a selection of potential business partners it is important to know which vertical markets they address.

Each market has its own particularities when it comes to the sales and marketing techniques required and it is better to work with partners who have some knowledge and experience of the vertical markets you want to target.

For each company profile in the database, we record the vertical markets targeted.

Below is a summary of the database content for these criteria.
Number of companies by vertical markets targeted