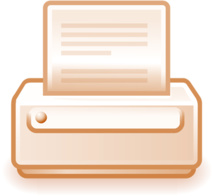 Everyone is wondering about HP's future in print. Now that the company is separated into two distinct entities, there are rumors of HP being sliced up even more. The recent acquisition of Samsung's print activity does nothing to change this.

The print sector is reaching a turning point. The convergence of print with office activities is coming to an end and in order to maintain critical mass, manufacturers have chosen to acquire complementary activities. Printer manufacturers are buying up photocopier manufacturers. The benefits of such a strategy are obvious: a bigger product catalogue, reduced sales teams in the long run, stronger branding …etc.


A quick reminder (non-exhaustive list)
| | |
| --- | --- |
| Brand | Event |
| Apple | Left the print market |
| Centronics | Bought by Genicom |
| Digital print | Bought by Genicom |
| Diconix | Acquired by Kodak |
| Eltron | Bought by Zebra |
| Genicom | Merged withTally Genicom |
| Hitachi | Bought by Ricoh |
| IBM | Transformed into InfoPrint |
| InfoPrint | Bought by Ricoh |
| Konica | Merged into Konica-Minolta |
| Minolta | Merged into Minolta QMS then merged with Konica in 2003 |
| Nashuatec | Acquired by Ricoh |
| Nec | Acquired by Xerox |
| OCé | Acquired by Canon in 2010 |
| Pentax | Acquired by Brother |
| Samsung | Acquired by HP |
| Tally Genicom | Separated and sold to Printonix (US) Dascom (EU) |
| Tektronix | Acquired by Xerox |
The history of the print market is made up of concentrations and there are still some potential buy outs. Rumors that Dell will withdraw from the print market show that a strategy based on just one market segment (print or copier) is difficult to maintain (just 23% of Dell resellers cite Dell in their top brands of printers sold – source compuBase).

Lexmark is now supported by investment funding. Everyone expects this to be a transitory phase prior to a different reorganization. This reveals both the maturity of a sector where technological innovation no longer generates growth in a market increasingly affected by dematerialization, and a swing towards service and usage.
HP's acquisition of Samsung Print– a tactical or a strategic move?
It's hard to understand the meaning of this acquisition. It certainly allows HP to remove a competitor from the market, whose strategy for gaining market share with an aggressive pricing policy was detrimental to all the players. But Samsung was already waning (
-8.9%
[1]
) and Samsung's strategy was
difficult to reconcile
with a low growth market and even less so in a declining market (
-3.8%
[2]
). So for HP it's about buying up the market shares that organic growth couldn't make or maintain (
-13.7%
[3]
) and trying to compensate the decrease in revenue for its imaging and print divisions, which has been constant since 2011 (
-19%
[4]
).
Whilst it's obvious that taking out an aggressive competitor in terms of pricing may have an effect in the short term, since nature abhors a vacuum, it is rather unlikely that such a strategy would have a positive effect in the mid- or long term.
Competition in terms of pricing can work on two levels: Firstly there's the risk that resellers who don't sell your offering will sell a competitor's product because of its more attractive pricing. But there is a far more devastating competition which comes from within your own distribution network, when your own reseller, rather than losing a deal, prefers to position a competitor's brand. In this case, not only will you lose the business, you will also lose your partner's trust.
If you take a look at HP and Samsung's distribution networks in Europe, you notice that depending on the product ranges, between
75%
and
84%
of Samsung partners also sell HP solutions, but also that between
18%
and
28%
of HP partners (who are more numerous) sell Samsung solutions. When a competitor has an aggressive pricing policy there is a good chance that leads you generate at great cost and supply to your partner will in fact be used to make sales for the competitor.
Ultimately HP is removing a thorn in its side. To regain market shares, or to temporarily slow their decline, in a market that is globally diminishing, HP's management didn't leave themselves any other option.
Below are statistics for the month of October 2016 on the overlap between the distribution networks of Samsung and the other major print players (- source compuBase)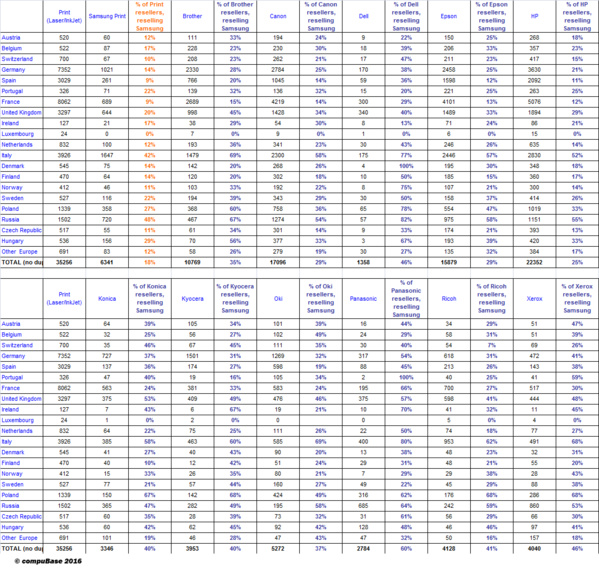 Click on image to read
The passage from CAPEX to OPEX is now central to print manufacturers' strategy.
Initially centred on large accounts, this initiative is now expanding to other market segments (cf: Epson's Print365 initiative).
At the heart of this movement towards managed
print
services lies the desire to eliminate the hardware behind the service. This movement, mastered by manufacturers of photocopiers is, from a cultural point of view, more recent with printer manufacturers.
The network is following this trend more and more. Today over
11%
of partners declare the resale of these types of solutions.
The consumer is less easy to fool
The business model of leasing printers via the purchase of overpriced consumables is in full swing. Manufacturers of compatible ink cartridges are being legally and technologically attacked to preserve this business model. But the end-user is not easily fooled and sees that cartridges are starting to cost their weight in gold. The ultimate risk is losing consumers' trust and users will realize that they are not rich enough to buy cheap versions.
A niche market with almost 25% growth per year…3D printing
Within this print market there is a niche that has exploded and whose growth rate will remind the industry's greyer-haired directors of former days. However, this market is very different to traditional print. Unlike the latter, this market still mainly addresses industry and very little services. For a traditional printer reseller, a 3D printer is like the cap on a bottle of Coca-Cola for a corkscrew.
Of 10 368 printer resellers questioned, only 475 declared the resale of 3D printers, less than 5%. The 3D printer market is far from being perceived as the future profession for printer resellers.
[1] IDC Worldwide Quarterly Hardcopy Peripherals Tracker, August 2016
[2] IDC Worldwide Quarterly Hardcopy Peripherals Tracker, August 2016
[3] IDC Worldwide Quarterly Hardcopy Peripherals Tracker, August 2016
[4] https://www.statista.com/statistics/274447/hewlett-packards-net-revenue-from-the-imaging-and-printing-group-since-200– source compuBase).
OTHER SUBJECTS THAT MAY INTEREST YOU