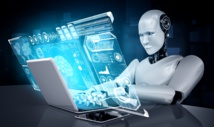 RPA covers a set of processes intended to automate tasks previously performed by human operators. As such, it will impact all companies making significant use of outsourced processes (BPO) and will bring new sources of revenue to IT development companies, especially those specializing in business processes.
Volume of companies within RPA universe by main activity
Why RPA is interesting for IT Partners?
Robotic Process Automation (RPA) represents a significant opportunity for ICT (Information and Communication Technology) resellers, System Integrators (SIs), and Managed Service Providers (MSPs) for several reasons:
Expanded Service Offerings: Integrating RPA into their service portfolio allows ICT resellers, SIs, and MSPs to offer automation solutions to their clients. RPA can complement existing offerings and open up new revenue streams.
Addressing Customer Needs: Many businesses across various industries are actively seeking automation solutions to improve efficiency and reduce operational costs. By providing RPA solutions, ICT providers can address these customer needs effectively.
Increased Customer Stickiness: By delivering RPA solutions, ICT companies can increase customer retention and loyalty. Successful RPA implementations lead to long-term partnerships, as clients become reliant on the technology and expertise of the provider.
Competitive Differentiation: Offering RPA sets ICT resellers, SIs, and MSPs apart from competitors who may not have ventured into automation yet. It demonstrates a commitment to providing cutting-edge solutions and staying ahead in the market.
Upselling and Cross-selling Opportunities: RPA implementations can lead to opportunities for upselling and cross-selling other ICT products and services. As providers build strong relationships with clients through RPA, they can explore additional solutions that fit the client's needs.
Collaboration with RPA Vendors: Partnering with RPA software vendors can strengthen the ICT company's position in the market. These partnerships can provide access to specialized training, resources, and support, enabling the ICT provider to deliver high-quality RPA solutions.
Vertical Market Expansion: RPA can be applied across various industries and business functions, such as finance, HR, supply chain, and customer service. This versatility allows ICT providers to expand their reach and cater to a broader range of clients.
Enhanced Consulting Opportunities: Implementing RPA often involves process analysis and redesign. As ICT providers work closely with clients to identify automation opportunities, they can act as consultants, providing valuable insights and recommendations.
Recurring Revenue Model: RPA implementations typically involve ongoing maintenance and support. This creates a recurring revenue model for ICT companies, ensuring a steady income stream over time.
Future-proofing Business: As automation technologies continue to evolve, RPA serves as a stepping stone to explore other advanced technologies like artificial intelligence (AI) and machine learning (ML). Embracing RPA now positions ICT providers for future growth and innovation.
RPA presents a lucrative opportunity for ICT partners to diversify their service offerings, build strong customer relationships, and stay competitive in a rapidly evolving technology landscape. By incorporating RPA into their strategies, these providers can position themselves as trusted advisors in automation and digital transformation for their clients.
THE 10 MARKETS WHERE YOU FIND THE HIGHEST PERCENTAGE OF PARTNERS WITH A RPA SKILL
Takes into account the volume of partners addressing a market AND the % of partners with RPA skills for this market.
Pharmacy - Medical
Insurance
Chemicals - Oil - Gaz
Aerospace
Energy & Utilities
Logistic and warehouse
Transport
Industrial Equipment
Government - State
Bank and finance
This ranking is define by compuBase using the vertical market size (number of partners addressing a market) and percentage of partners declaring to be skilled in RPA.
compuBase database 174136, volume qualified on markets addressed 120418 volume of partners with a declared RPA skill 3678.
EMEA – NA - LATAM - AU - NZ - SG
© compuBase 2023
THE TOP 10 MARKETS IN VOLUME OF OF PARTNERS WITH A RPA SKILL
Takes into account the just volume of partners with RPA skill addressing a market compared to the volume of partners addressing the same market.
Bank and finance
Medical - Health
Distribution - Retail
Industrial Equipment
Education / Training
Insurance
Government - State
Logistic and warehouse
Transport
Pharmacy - Medical
The 10 markets where you find the largest number of partners declaring to have RPA skills vs all partners addressing the same market.
compuBase database 174136, volume qualified on markets addressed 120418 volume of partners with a declared RPA skill 3678.
EMEA – NA - LATAM - AU - NZ - SG
© compuBase 2023
FINALY THE TOP 5 MARKETS FOR RPA
If we combine the two rankings and take into consideration larger RPA markets with the highest percentage of partners skilled in RPA, we can identify the five most interesting markets for RPA.
These markets represent both the highest potential and where you can find the most skilled RPA partners
Insurance
Bank and finance
Pharmacy - Medical
Industrial Equipment
Logistic and warehouse
There are two methods to recruit partners: either try to complement an existing offer or take the place of a competitor, or find partners for whom your offer will be most appealing. It is clear that a partner addressing the five markets mentioned above, even if they are not yet active in the RPA domain, will have a higher chance of success than another targeting markets with lower potential.
FURTHER LINKS THAT MAY INTEREST YOU