This database provides the means to contact 7 000 professionals on the American continent among 5 500 IT Partners

LATAM - Counts by Country/region
The concentration of ICT partners in our database for Mexico

Volume of IT partnres in Key Latam Countries
The concentration of ICT partners in our database for Brazil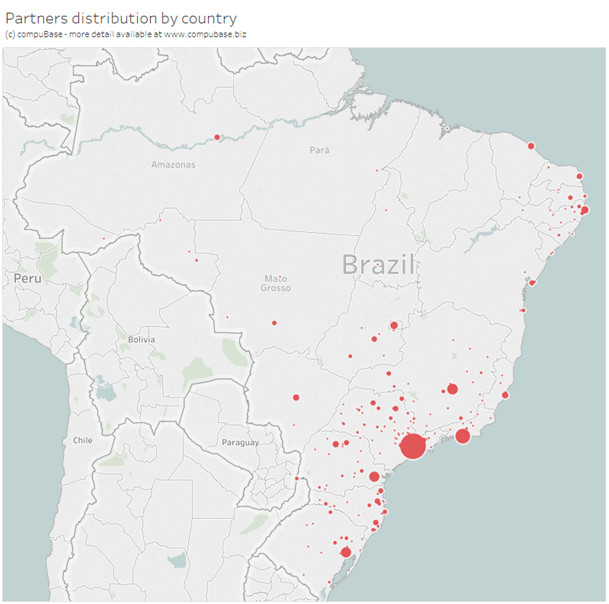 The LATAM market is very different to the North America or European market; here are a few of the reasons why:
Linguistic issues
The market is dominated by offers from the United States, some consider Miami as the IT capital of South America. Despite the strong pressure exerted by North American players, linguistic affinities mean that Spain and Portugal also play an important role, especially in the software sector where linguistic affinities are more determining..
Mexico and Brazil are the top 2 IT countries in Latam. Mexico, being part of NAFTA and being a border with the United States, occupies a slightly different place from Brazil, which is the most powerful country in the MERCOSUR.
Although Latin American countries share many cultural and social factors and, with the exception of Brazil, the same
Language. Their geographical, historical, political and economic environment differs, which helps to explain the strong heterogeneity of the region.
A market approach driven by Master VARs and US distributors
.The two categories of players that have played a key role in South America are the American wholesalers and the local Master Vars.
These are mainly companies that are well established locally within large industrial groups and on which the major international software players rely for the integration of their solutions. The rise of a local economic base of the one / two-level type has always been limited by the difficulties linked to the fluctuations of local currencies with the dollar, slowing the development of independent local wholesalers..
Shortage of IT skills
, The great difficulty for local companies whether they are end users or from the IT sector is to be able to recruit (or keep) people with good IT skills. In general, the strong global demand for computer scientists is pushing IT engineers from countries with low purchasing power to immigrate to countries with greater purchasing power, the brain drain to the United States is one of the factors that hinder the development of a stronger IT iocal ndustry.
For information on our Channel database for Europe, The Middle East and Africa visit this page
For information on our Channel database for North America, visit this page
Create Your Own Target for LATAM IT partners
Our Online Selection Tool
compuBase has developed a very powerful but easy to access tool. It allows you to perform targeting and instantly know the volume of potential partners for your activity. The counting functions are accessible without subscription.
OTHER LINKS THAT MAY INTEREST YOU