ICT Market Tendencies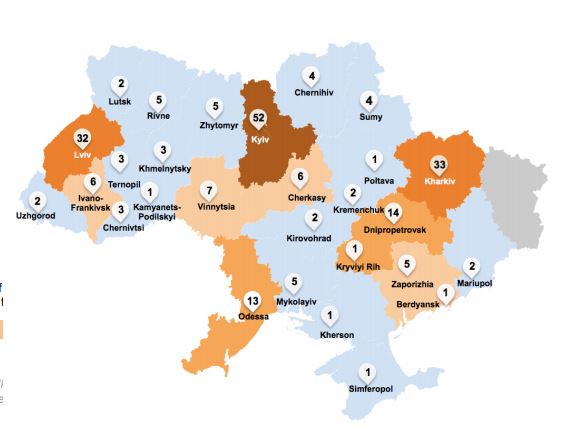 Vol of IT companies more than 80 employees (source AVentures)
Ukraine is a country bordering Russia. This geographical and historical proximity shapes to a certain extent the country's difficulty in getting permanently attached to Europe.
Ukraine's ICT ecosystem differs from other countries in being extremely focused on application development services for export markets. With very good engineering schools, Ukrainian developers are particularly appreciated by foreign companies whether they are American or European. Today many companies have an R & D center in the country, in this sense Ukraine stands as an alternative to India or China.
This capacity is reinforced by the availability of students or developers who work independently to make ends meet and are working in a favorable tax environment.
In addition to the quality of developers, there is of course the cost of a highly competitive workforce that attracts foreign customers but also the total volume of developers available (16,000 engineers per year).
All this allows the ICT sector to grow strongly but also poses different problems:
- The retention of the value created indeed the intellectual property belonging to the contractors.
- The lack of resources available to modernize the Ukrainian economy, which is in great need of it.
- The lack of attractiveness of the education system, whose organization and mentalities have inherited a centralized Soviet-style system, and which ultimately has difficulty providing the engineers needed to cover both the internal market and the export markets. In addition, what does not help is that the total Ukrainian population is in decline and that many engineers are attracted by foreign sirens.
Industry, agriculture and the energy sector are important markets in Ukraine. They can serve as a platform to transform the knowledge gained through developments for foreign companies into a more sustainable IP value for the country.

50 % of the IT companies are around the capital Kiev

The following image shows the concentration of ICT partners in our database for Austria.
ICT partners Database Ukraine [NOT YET COVERED BY COMPUBASE] - Click on any cell in the table to see the corresponding selection
| | | | |
| --- | --- | --- | --- |
| | Create your own company selections in Ukraine >>Here | | For a specific target of ICT players for Ukraine >>Contact us here |
FURTHER SOURCES OF INFORMATION
Distribution players:
Bakotech, ASBIS
IT Channel Press & Players:
Ukraine Digital News
Public organisations & Useful Associations:
IT Urkaine association


USEFUL LINKS
OTHER LINKS THAT MAY INTEREST YOU