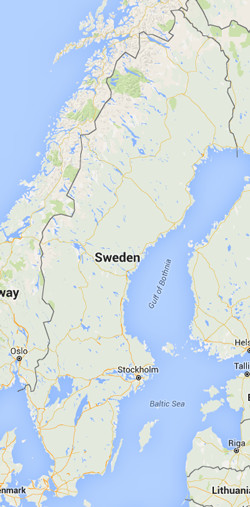 ICT Market Tendencies
With a strong economic influence on Northern European distribution, Sweden is also one of the world's most developed countries in the ICT sector and the 7th EU market in terms of value, with 3% of the EU ICT market. Very similar economically to the UK and Germany, it also maintains strong commercial relationships with the two countries. From a technological viewpoint, Sweden is undoubtedly one of the pioneers; which is why a lot of ICT R&D is based in Sweden. Swedish companies currently innovate in internet and visual techniques, producing brand new applications for transport and infrastructure systems, entertainment, simulation, data imaging, and bio-informatics, as well as mobile system design. Sweden is also a leader in wireless communications, broadband systems, mobile services and applications.

Distribution remains very structured and dominated by a few wholesalers covering all of Northern Europe. The Swedish ICT distribution channel is divided between resellers (32%), service companies (41%), software publishers (18%) and manufacturers (6%). The channel is composed of a wide palette of players including multinational telecom operators, computer vendors, system integrators and a few very specialized companies. There are around 800 Swedish software development companies, many of which are mainly dedicated to activities such as systems software for communications, business systems and applications software for telecommunications. VARs total around 40% of all channel players.

As for the maturity of Internet technology use, Sweden is placed number six worldwide. The software market is highly developed. The market consists of global software development companies and small, innovative niche-oriented companies.

Other developed services sectors are business intelligence, information management, mobility applications, e-business, and information security. Swedish companies are among the leaders in convergence and integration of telecom technologies and services. The strong telecom culture (of 1,200 companies and several multinationals) makes it very attractive for investors. The telecommunications infrastructure is specialized in photonics and networking technologies and is also fostering a growing number of multimedia companies. In the mobile sector, Sweden has pioneered technologies like NMT, GSM, GPRS, EDGE, Bluetooth and WCDMA, and HSPA. Strategic areas of growth on the digital equipment market are compact digital cameras and flat screens, mainly high-end products. The convergence between IT and the entertainment industry continues to create business opportunities, especially in the consumer segment.

The following image shows the concentration of ICT partners in our database for Sweden.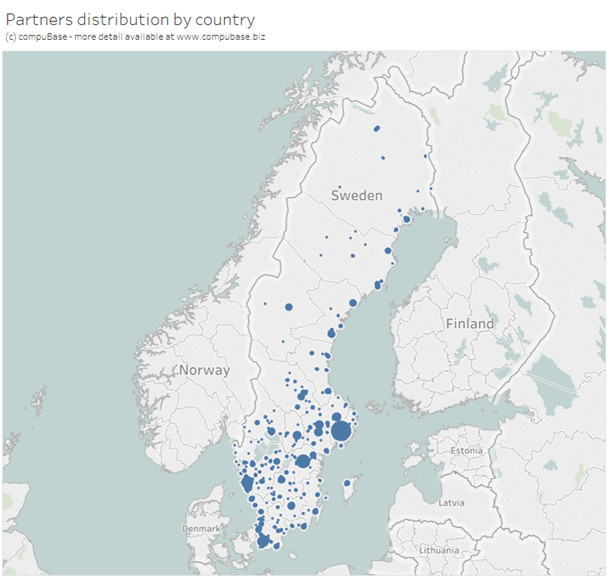 Click on image to see selection in our targeting tool

Database Sweden - Click on any cell in the table to see the corresponding selection
FURTHER SOURCES OF INFORMATION
Distribution players:
TECH DATA Sweden AB ; INGRAM MICRO AB ; EXERTIS CAPTECH AB ; ARROW Sweden AB ; ISOLDA AB ; ALSO Sweden AB
IT Channel Press & Players:
IT Branschen (IDG)
Public organisations & Useful Associations:
STIFTELSEN COMPARE KARLSTAD
USEFUL LINKS
OTHER LINKS THAT MAY INTEREST YOU