Electronic Document Management (EDM) is increasingly key in today's business environment and for IT partners for several reasons: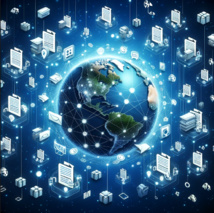 Efficiency and Productivity: EDM streamlines document handling, making it faster and more efficient to create, store, retrieve, and share documents. This boosts overall productivity within organizations.
Remote Work: With the rise of remote work, EDM enables easy access to documents from anywhere, facilitating collaboration and ensuring business continuity.
Cost Savings: Going digital with document management reduces the need for physical storage space, paper, and printing costs. It also minimizes the risk of document loss.
Security and Compliance: EDM systems offer robust security features, including access controls, encryption, and audit trails, helping businesses protect sensitive data and comply with regulatory requirements.
Collaboration: EDM enhances collaboration by allowing multiple users to access and work on documents simultaneously. This fosters teamwork and improves decision-making.
Search and Retrieval: Advanced search capabilities make it simple to locate specific documents quickly, reducing the time wasted on manual searching.
Version Control: EDM systems maintain document version histories, preventing errors and ensuring that teams work with the most up-to-date information.
Environmental Impact: Going paperless with EDM aligns with sustainability goals, reducing paper waste and lowering an organization's environmental footprint.
Scalability: EDM solutions can scale with a business's needs, accommodating growing document volumes and evolving requirements.
Competitive Advantage: Companies that embrace EDM gain a competitive edge by being more agile, responsive, and adaptable in a fast-paced business landscape.
Why EDM is an important topic for IT partners?
EDM is crucial for IT partners because it addresses fundamental business needs, including efficiency, security, compliance, and adaptability. By offering EDM solutions and expertise, IT partners help their clients optimize document management practices, leading to improved productivity and competitiveness.

What partners?
artners who sell Electronic Document Management (EDM) solutions typically fall into several categories, each offering a different level of specialization and expertise. These partner categories can include:
Software Resellers and VARs (Value-Added Resellers): These partners specialize in selling software solutions, including EDM software, to businesses. They often provide customization, integration, and support services alongside the software.
System Integrators: System integrators focus on integrating EDM solutions into an organization's existing IT infrastructure. They ensure that the EDM system works seamlessly with other software and hardware components.
Consultants and Solution Architects: Consultants and solution architects offer expertise in evaluating an organization's document management needs and recommending the right EDM solution. They may also assist with system design and implementation planning.
Managed Service Providers (MSPs): MSPs offer ongoing managed services for EDM solutions. They handle maintenance, updates, security, and support, allowing businesses to focus on their core operations.
Technology Partners: Technology partners collaborate with EDM software providers to create integrations or add-on solutions that enhance the functionality of the EDM system. For example, they might develop document capture or workflow automation tools.
Cloud Service Providers (CSPs): CSPs offer cloud-based EDM solutions, hosting and managing EDM software in the cloud. This provides scalability and accessibility benefits to businesses.
Resellers of Hardware and Scanning Equipment: Since scanning and digitization are often integral to EDM, partners specializing in hardware, such as scanners and multifunction devices, may offer bundled solutions with EDM software.
Training and Education Providers: These partners offer training and education services to help businesses and their employees become proficient in using EDM solutions effectively.
Compliance and Legal Experts: In industries with strict compliance requirements, such as healthcare or legal, partners with expertise in compliance and legal document management may specialize in EDM solutions tailored to these sectors.
Industry-Specific Partners: Some partners focus on specific industries, such as healthcare, finance, or manufacturing, and offer EDM solutions tailored to the unique needs and regulations of those industries.
Value-Added Distributors (VADs): VADs are intermediaries that provide additional services, support, and resources to resellers. They may specialize in EDM software distribution and offer training, marketing, and technical support to resellers.
Some key vendors in the EDM business
For EDM - EIM
OpenText, Hyland (OnBase), M-Files, Microsoft (Sharepoint), IBM(FileNet Content Manager), Alfresco, Laserfiche, DocuWare, Nuxeo, Xerox, SAP, SAS, Adobe, Ephesoft, Informatica

For Workflow:
Microsoft(Microsoft Power Automate), Nintex, UiPath, Appian, Pegasystems, IBM, ServiceNow, Zoho Creator, K2, Alfresco, Flowable, Kissflow

For DSM
Symantec , McAfee (now part of Intel Security Group), Trend Micro: Check Point Software Technologies, M-Files:, IBM Security, Forcepoint, Varonis Systems, Citrix ShareFile, Vormetric (Thales Group), Digital Guardian, Seclore but also Cloud based document management services such as Box or Dropbox.
Volume of Partners country and skill
Volume of Partners of EDM universe By Main Business Model
Volume of partners by activity of software publishing or IT Services linked to EDM
What are the key verticals in which EDM is overweight?
In order to identify the most promising markets, we utilize two distinct rankings. The first evaluates market penetration where EDM partners exceed the average in a specific market. The second focuses on markets with the highest number of EDM partners. This methodology combines both quality and volume metrics. Ultimately, we retain markets that excel in both rankings.
Partners in the following markets frequently offer EDM solutions more than those in other verticals.
This ranking is not influenced by the sheer number of partners in the given vertical:
Legal
Raw Materials Extraction - Mining
Digital Economy - Online Services
Publishing - Printing - PrePress
Industrial Machinery
Leisure Industry - Entertainment & Arts
Research - Scientific - Life Sciences
Metallurgy
Federal - Government Bodies
Local Authority
The ranking below represents the markets with the highest volume of partners possessing EDM expertise.
This ranking is solely correlates with the number of partners with an EDM expertise:
Bank and finance
Medical - Health
Distribution - Retail
Education / Training
Industrial Equipment
Any market type
Government - State
Federal - Government Bodies
Insurance
Logistic and warehouse
When we consolidate the two rankings, focusing on the best in terms of volume and penetration, we derive this final ranking:
Federal - Government Bodies
Digital Economy - Online Services
Industrial Machinery
Medical - Health
Industrial Equipment
Insurance
Government - State
Bank and finance
Legal
Education / Training
The markets mentioned above seem to be the most promising.