Foreword
The study looks at the geographical areas of EMEA, North America, and LATAM. The data is drawn from a database of over 30,000 partners that work with either one of these brands, although in reality both sales channels are much larger. However, we believe that the partners listed in our database account for at least 80% of revenue in EMEA and North America. Furthermore, in order to avoid "contaminating" the analysis, we have chosen for comparison only the Print portion of HP's network; partners that sell PCs or laptops without also selling print solutions are not included in the study. In the Print segment, all products are taken into consideration, including Managed Print Services. Finally, this study is unsponsored.
Size of the sales channels and overlap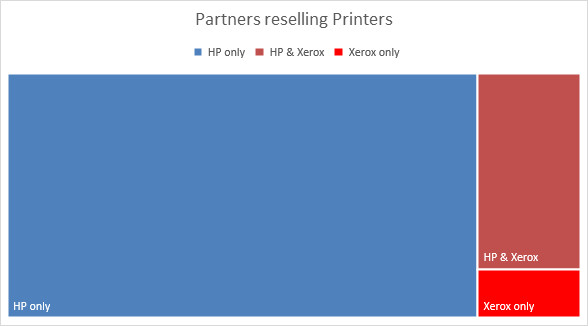 Although HP's market capitalization is four times that of Xerox, its sales channel is at least five times larger, which is partially because Xerox has a line of products primarily devoted to B-to-B, whose average value is higher. Where this imbalance is even more keenly felt is in the overlap of their sales channels, because although Xerox covers 15% of HP's partners, HP covers... 80% of Xerox's partners. With respect to market coverage, HP has nothing to really gain from Xerox, while the opposite is true from Xerox's perspective; acquiring HP would immediately increase its market outreach capabilities.
Overlap in sales channels
To study the overlap in sales channels, we looked at the number of partners in common, compared to the total number of partners in the segment in question. As the overlap between the two channels is 16.64% (meaning that 16.64% of the partners selling either of the two brands in the Print sector sell both), in the tables and charts below any values above or below that figure show greater or lower overlap.
Geographical areas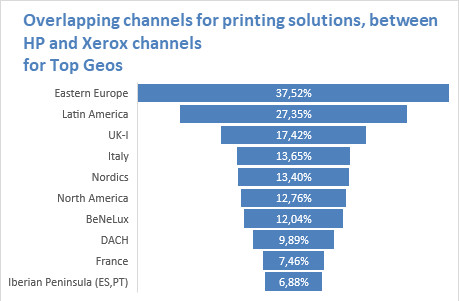 * The compuBase database is somewhat less representative in Latin America than in other regions.
From a geographical perspective, overlap varies from 7% to 37%, peaking in Eastern Europe. It is at its lowest in France and the Iberian Peninsula.
Overlap based on partner size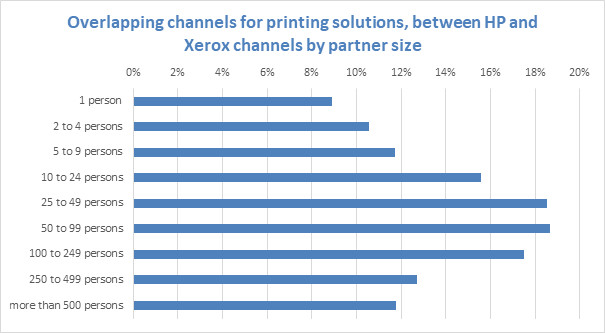 The segment with the most overlap is in partners with 25 to 100 people. For them, overlap is more than 18%, while being less than 12% for partners with fewer than 10 or more than 500 employees.
Overlap by target customer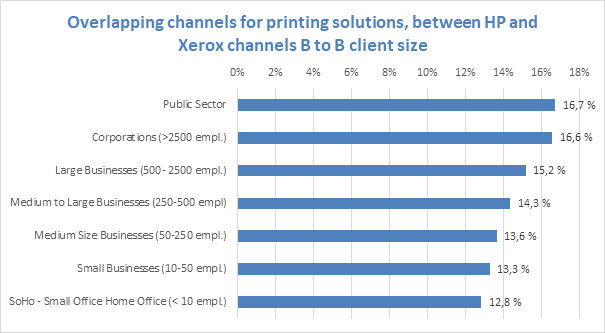 With respect to client targets depending on their size, it is noticeable that the level of overlap is proportionate to the size of the customers targeted, reaching its maximum with public-sector customers. As we shall see in the next section, within this segment, in descending order by overlap are the central government, government-related agencies, and local governments.
Overlap in vertical markets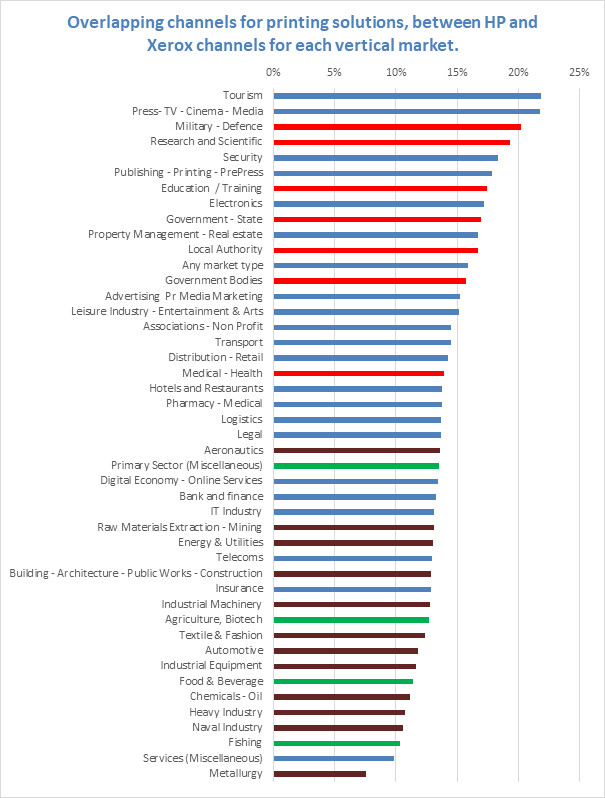 A study of vertical markets, meaning customer markets targeted by partners, shows higher market overlap rates in the service sector (blue) and closely government-related sector (red) than in industry (brown) and agri-food (green).
Overlap among 10 competing Print brands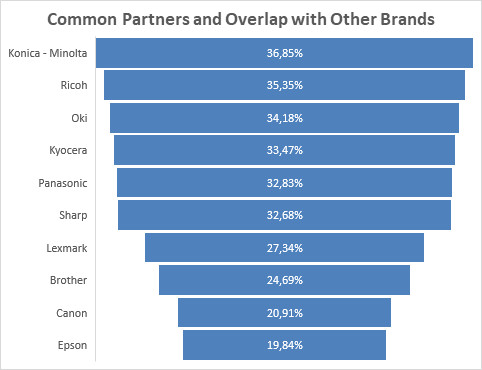 It's also very interesting to see what brands in the industry would be most affected by a merger between Xerox and HP.
When two suppliers join together, it always affects their sales channels. For instance, a reseller will often want a product line that can cover all market segments while also avoiding being single-brand out of basic caution, whenever this can be contractually achieved. This allows them to maintain competition, cover all price segments for the same type of solution, and avoid losing business of a product which is out of stock. It's often an act of good management to have a diversified product line. Therefore, when one brand buys another, it's also often an opportunity for the brands present in a market to be able to "win" new partners.
The most common brands in the shared HP-Xerox sales channel are also the leading brands in the photocopier market, namely: Konica Minolta, Olympus, Ricoh, and Kyocera. At the other extreme are leading print brands that are not involved in copying, like Epson, Canon, Brother and Lexmark.
More information about Printing business?

image.png
(9.35 KB)