There are now three compuBase pricing models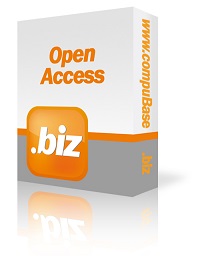 Open Access - The key principles
Your company has access to up to 120 000 partner profiles
You define the volume of monthly credits (right of usage) that you may use to view, analyze, enrich and export data
Your team can use the credits for their operations. You control the usage by BU / user / period. Unused monthly credits are carried over to the following month
What is a credit?
A credit is an unit of account which allows you to access to advanced information or to export data through compubase-online web application

The number of credits required by action depends on the type of action or the information fields used in your selections and the depth of data you want to export.
Open Access: A pay-per-use system
A fixed monthly fee that includes a volume of new credits.

You use the cumulated credits for your operations
–Each information field or operation is worth a certain number of credits that are deducted from your account
–Any action that uses credits requires formal approval by an pre-authorized user.
One year subscription minimum

The cost of credit units is degressive depending on the total volume of credits used over the previous 12 months.



>>> The more you use the less it costs
You control your monthly budget
The advantages of Open Access
You define your monthly budget

You have yearly access to an updated database

With access to the top selection criteria

No extra selection fees for each export

A variable cost per operation depending on the volume and type of operation

The unit credit price is calculated to make the most of total credit used over the previous 12 months

You receive a detailed monthly report showing how your access has been used (by Dpt, by BU…)

Only approved users are able to authorize actions that generate an additional cost to the subscription

There is an approval process that gives you the cost of a desired action

You can allocate costs to a designated BU/Dpt

You can allocate costs to a specific PO
Q&A
| | |
| --- | --- |
| Do I know the number of credits used or the associated cost of an operation before doing it? | Yes you know the volume of credits and you can simulate costs of an operation for budgeting. |
| Is there is a limit to the number of credits I can use in a month? | No, there is no limit. You can use all the credits you, your service or your company is entitled to use. |
| Is there a fixed price per credit? | Yes you know the cost of a credit at the start of your contract. The unit credit price decreases depending on your commitment to an annual volume. |
| Do all actions cost the same number of credits? | No, specific actions can cost from 1 to 8 credits. i.e. a simple selection and export costs 1 credit per export, but using BI tools and exporting advanced information such financial data may cost up to 8 credits per record. |
| Is it possible to get usage reports? Per user, per BU, or per country? | Yes. |
| At the end of the yearly period if I have not used all my credits is it possible to transfer them to the following year? | Yes, under the same contract, you can transfer any unused credits for up to 10% of the annual contract. |
| What does the subscription cover? | The subscription covers licences, training, access to statistical tools, support, helpdesk and monthly reports. |
| How I can get a lower price per credit unit? | With a centralized European contract. The more credits you use, the lower the cost per credit unit. |
| Can I have full access to all features without using the credit system? | Yes, we have other subscription offers for specific, fixed targets |
| Is it possible to buy additional credits during the year? | Yes you can upgrade your subscription or buy additional credits at any time throughout the year |
| Is it possible to use all the credits for upcoming months in advance? | Yes but this is limited to months that are already paid, if you choose to make quarterly payments you will be to use all the credit left for a quarter. You can also purchase additional credits whenever you want. |
OTHER LINKS